Learn more about our
staff and ministry teams
:
Our
pastor and his family: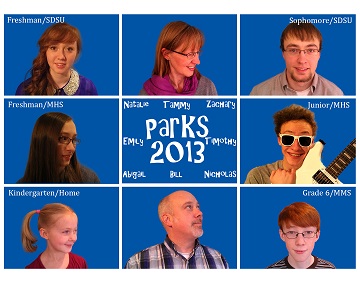 Our current pastor is Bill Parks. He graduated from Mitchell High School in 1987 and attended Dakota Wesleyan University. He has been married to his wife and partner in ministry, Tammy (Patten), for over 25 years. They have six children ranging in age from 7 to 22, who are each an important part of this ministry in their own special way.
Bill has been an active part of this church family since its beginning. His dad, Ron Parks, was the pioneering pastor of this ministry. So from cleaning to constructing or leading worship to leading the youth ministry, he has, at one time or another, done just about everything possible within this ministry. He served as the youth and associate pastor for 13 years prior to his installment as the lead pastor in 2005. He was recognized as one of "Ten Outstanding Young South Dakotans" in the Year 1999 for his work with students and direction of our teen center called "that place".
Our
ministry teams...
The people who are serving as a part of this ministry volunteer their time and efforts. We are very thankful for all of the work that is accomplished each week by these dedicated individuals. The list continues to grow as people discover their talents and abilities and choose to take the steps necessary to become a part of one of our teams. We have not listed individual names on this site, but will gladly help you to contact the appropriate person(s) in a specific area of ministry if you would like to speak with or hear from one of us.
We purpose to be a life-giving church that helps people discover their God-given abilities and release them to pursue His dream for their life. You don't have to fit into one of our ministry "slots" to become an active participant in ministry. Although there are a lot of options to serve, whether working with one of the "Life on the go" weekend teams or serving as part of a weekly, monthly or quarterly ministry event, or an outreach into our community, everyone should be able to find a place to make a difference by serving others with your unique and individual talents, time and resources.
If you have any further questions, please feel free to contact us.