**Week of March 30 - April 5
Here are
the resources we use on Wednesday nights and Sunday mornings

with our kids and students! Feel free to watch them as often as you like and share this page with others. This can be a great season of growth for all of us! Most of us would have jumped at the chance to spend more time together with family a few months ago.
So... here is your chance. Use it wisely!
When we gather as a church family, we spend some time just catching up and talking, we often share some refresments or a meal together, we use music to focus our hearts and minds on Jesus and sing our praises to God, we pray with and for each other, we study scripture together, we allow the Holy Spirit to encourage, equip, instruct or correct us, and we worship God by giving financially and by finding ways to use our talents to serve each other. As you have a chance to worship as individuals and families, our hope is that you will find ways to experience being the church wherever you happen to be today! We also look forward to meeting again in person sometime soon! Until then, feel free to contact us with any questions.
Simply choose the resources you want by clicking on the title of the series.
Our younest learners get their messages straight from a tool that is available to anyone with an internet connection. The bible app for kids can be accessed from phones, tablets and computers and is a great way for parents to share powerful biblical stories and principles while having fun reading with their littles!
You will find all kinds of activities to share with your pre-schooler on this video's page!
We are in week #5 of "Through the Roof" Unit 2
We always take time to pray together in a small group and encourage you to do that together as a family!
Our Life Kids enjoy adventures with the cast and characters of Konnect HQ!
We are in week #3 of the Emotions series called "Finding Joy!"
Memory verse: James 5:13 "Are any of you happy, you should sing praises!"
Questions: How can you have joy when things aroudn you aren't happy? Share some ways you can praise God when you are happy this week!
You could read the bible plan "Dealing with Feeling" together from the Konnect Bible plans..
We always take time to pray together in a small group and encourage you to do that together as a family!
Students in grades 6-8 learn within a small group and watch "The LOOP Show"
We are in week #1 of the How to save the World series called "The secret power of Grace"
Ephesians 2:8-9 NLT "God saved you by his grace when you believed. And you can't take credit for this; it is a gift from God. Salvation is not a reward for the good things we have done, so none of us can boast about it."
Start the Bible plan "The secret power of grace" on the Bible app!
Ask your student(s) to think of a time when they messed up (big or small) but someone showed them grace. How did that grace make you feel?
Make sure to ask them about their concerns, pray together and give them some time to think about and pray for someone else that might need God's help today.
Grades 9-12 have an opportunity to learn more about "The Greatest Story Ever Told!"
We are in week #1 of the Grace series called "Rebellion"
"So the L ORD God said to the serpent, "... I will put enmity between you and the woman, and between your offspring and hers; he will crush your head, and you will strike his heel." Genesis 3:14-15 NIV
Three steps to throwing away your future : 1. Focus on what you can't do. 2. Believe in a lie. 3. Give in to temptation. Which of those steps do you struggle with the most? Why is that? How has that made things harder for you?
Start the Bible plan "The Greatest Story ever told" on the Bible app!
Take some time to pray together with them and encourage the students to pray for others that come to mind as they process the events of the week and the hope in this message.
We are so grateful to God for the way He is working through the generosity of our friends at Life.Church as our students benefit every week from the creativity and effort that they share with us through their open.church platform! THANK YOU!!! If you would like to dig a bit deeper and find even more resources related to these or any other messages, feel free to explore their website.
Watch our weekend services live or on-demand!
We stream our weekend service live by video at 10:10 AM on Sundays. You can also watch any of our archived services anytime at your convenience!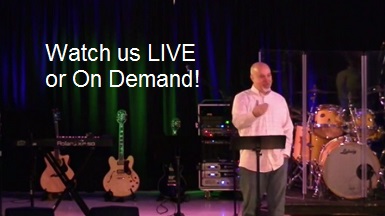 Watching a teaching segment from a Sunday service is helpful, but you will benefit more if you listen with an intent to learn so you could be ready to teach someone else what you have heard. Read the scriptures for yourself and ask the Holy Spirit to show you how to live it out. Find ways to communicate and connect with other believers and encourage each other. Serve those around you with the time, talents, and treasure that God has entrusted to you. Pray with all the faith that God has given you. He is our Hope!!